Chops Chicago Steakhouse: Gourmet Finds at a Busy CBD
Whether a food tastes great because it is expensive or a food is expensive because it tastes great – there is only one way to know!
So on a night of a busy workweek, we found ourselves gathered around one of Chops Chicago Steakhouse's cozy tables to fill ourselves up amidst a busy central business district.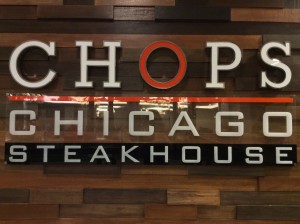 Located on the fourth floor of Greenbelt 5, Chops Chicago Steakhouse is one of the few restaurants in Makati that offers quality dishes. The ambiance of the place is unique, exuding a homey vibe in spite of being smack in the middle of the busy city of Makati, with the warm lights giving you a feeling of privacy and exclusiveness.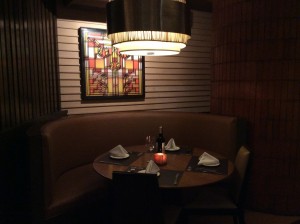 THE EATING SPREE
We started our dinner with a bowl of Creamed Asparagus. We expected it to be hot, but it was just a tad warm, to prepare our palates for the dishes to follow.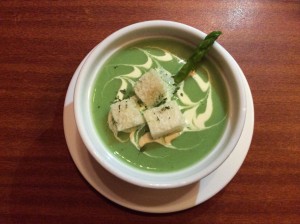 Another appetizer was the Apples and Aragula Salad. On its own, aragula has too strong a taste but Chops complemented it well with apple and balsamic vinegar and some other secret ingredients (read: trade secret).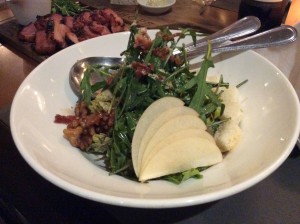 Apples and Arugula Salad
Following our salad was the Charbroiled Slab of Bacon. When one hears "bacon", heavy breathing ensues, and one automatically imagines the crispy long strips of pork. Chops has a different take on their bacon though; the Charbroiled Slab of Bacon was literally a half an inch thick slice of pork which has a smoky flavor, accompanied by pomegranate honey mustard and black pepper sauce, making for an excellent starting dish. Eventhough it was pork, we didn't feel the heaviness because of the tenderness of the meat and the tanginess of the sauce.
The Bone Marrow, on the other hand, was nicely presented with toasted crostini and parsley salad. The toasted crostini came with a nice add-on and it did not overpower the Roasted Beef Marrow.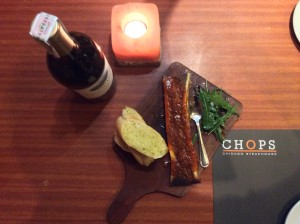 Bone Marrow
Half Slab Barbecued Pork Ribs was served with Beer-Battered Onion Rings and Baked Macaroni and Cheese. The Pork Ribs had the right amount of sauce to it, but the meat was a wee too dry for our liking. The Baked Macaroni and Cheese looked and tasted like an instant Kraft Baked Mac and Cheese, but it had a slight tinge of blue cheese.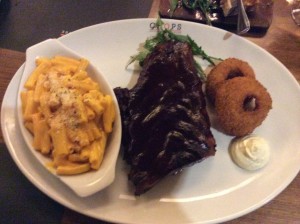 Half Slab Barbecued Pork Ribs
One of us had high expectations for Silence of the Lambs, as it also happened to be the title of his favorite movie. Silence of the Lambs came with a Truffle Carrot Puree and Seasonal Vegetables. It didn't disappoint – this appetizing, slow-braised lamb shoulders in red wine was simply superb, especially with the Cardiac Rice which was served along side it. If you must order only one dish from Chops, this is it.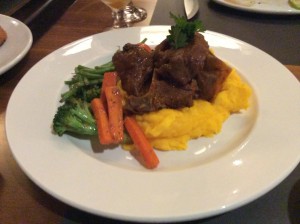 Silence of the Lamb
What's left is to punctuate this delectable meal with an equally outstanding dessert, and the Dark Chocolate Cigars with light and delicious bourbon mascarpone cream filling and white chocolate ash did just that.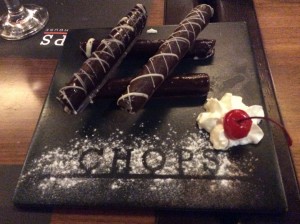 Dark Chocolate Cigars
Chops Chicago Steakhouse was a satisfying experience. The dishes were moderately pricey, but overall, it was a good experience and well worth it.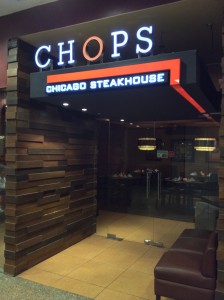 Words by Patrick Duran
Edited by Aiza Llave