PuzzleBox BPO Inc. Reviews: A Southern Chinese paradise right in the heart of the Metro
Words by Carlo Chua Photos by Lance Reyes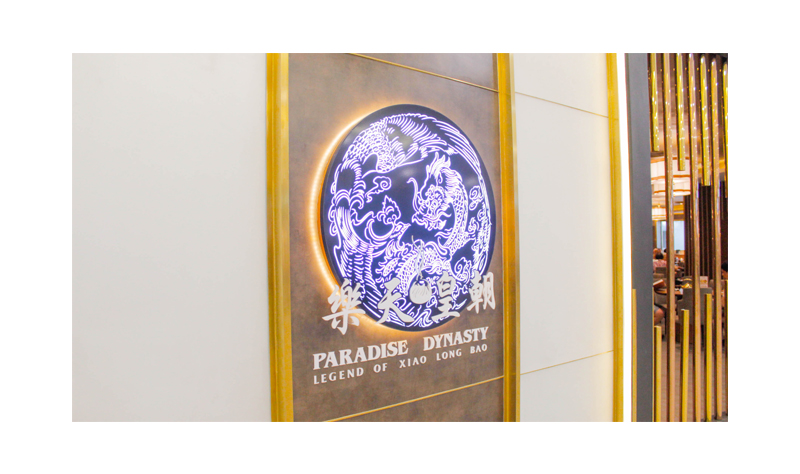 "Preserve the old, but know the new." – Chinese Proverb A modern take on an old classic, Paradise Dynasty is on the cusp of being at the forefront of classic Sichuanese style comfort food, fused with modern cooking techniques. We were actually surprised at how well Paradise Dynasty was received, both in their S Maison and Podium branches. They go against the norm by pushing culinary boundaries, yet stay to their roots without disrespecting tradition. Every delectable bite from their eleven-course meal tasted clean and rich – light yet very umami in taste and flavor with the best of both worlds coexisting in a single dish.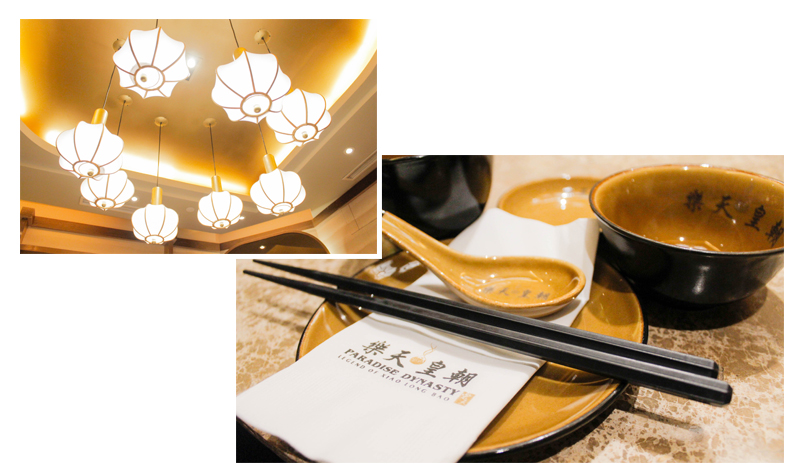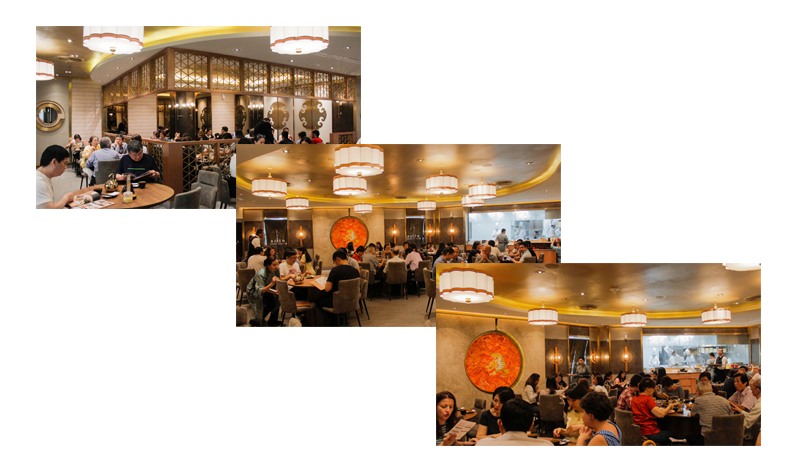 Eating here is a journey, it's like taking a step back in time, a time when old China existed, a moment that, if you close your eyes, feels like you're travelling back in time.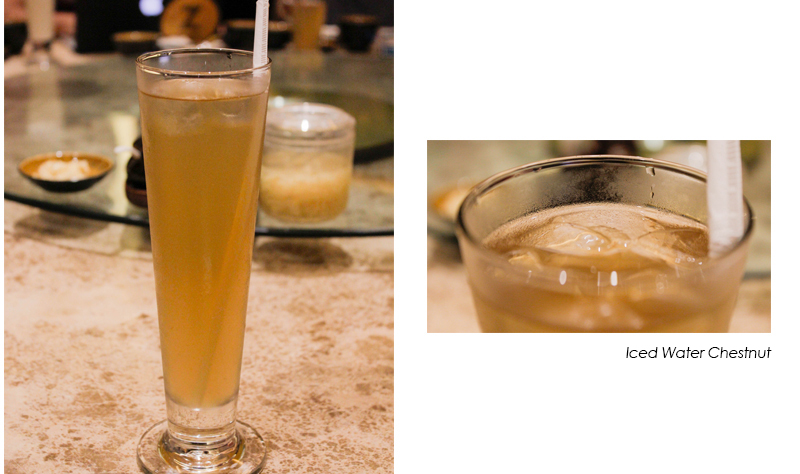 We were lucky to have been invited to try out new dishes at their second branch, in the newly renovated Podium Mall at Ortigas CBD. We were first served with refreshments, followed by their super delicious, mind blowing numbingly(good of course!) boundary-pushing spread! They had prepared their Iced Water Chestnut cooler to start us off with. The sweetness of the chestnuts were enhanced due to the boiling and steeping method used, which brings out its best flavors. You could taste the richness brought about by the nuts, yet stayed very light and refreshing because of the equal amount of ice and water mixed into the drink, and a bit of caramelized sugar syrup to round out the component.
We were then served two dimsum baskets of their "piece de resistance"; the famous multi-colored, multi-flavored Xiao Long Bao or XLB for short. Each flavor had its own distinct unique taste apart from its colored "cousins". The Red Szechuan soup dumpling had a mild peppercorn flavor which wasn't overpowering as we'd expected it to be. We were actually waiting for the heat to bite back, but thank God it never came! We love spicy food though, but it was cool to see that they didn't "overstuff" the Red XLB with too much spice. The Ginseng on the other hand, tasted very "medicinal", which if you're a Chinese food purist, you'll definitely appreciate that from Paradise Dynasty. Moving to the Crab Roe XLB, we found this to be the best tasting soup dumpling out of the three flavors that we tried. It was very rich and unctuous, but didn't have the offensive seafood-y taste you usually get from the typical crab roe. Overall, we give Paradise Dynasty's flavored Xiao Long Bao two thumbs up!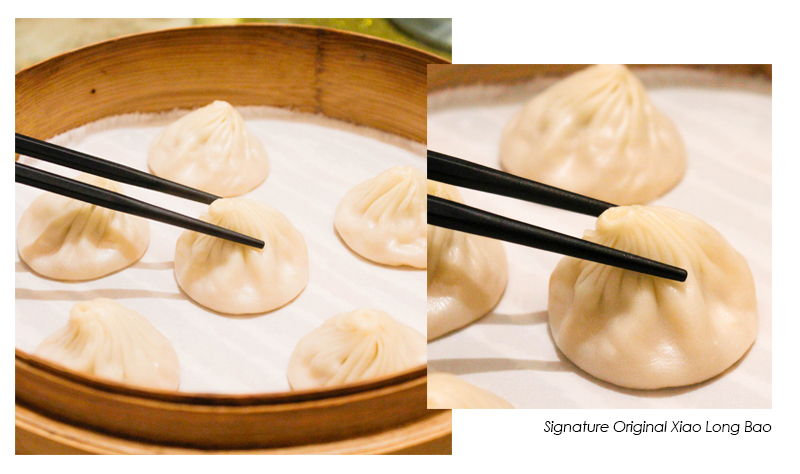 How could you dine here and not taste the classic original Xiao Long Bao, right? Much to our "expected surprise", we were treated to the OG, the Godfather, the end-all-be-all Classic XLB. As one would expect, their traditional soup dumpling never failed to bring a smile to our faces, it brought one of us back to our childhood taking down these bad boys with my "A-ma" (Grandmother in Chinese) within the inner streets of her hometown in China.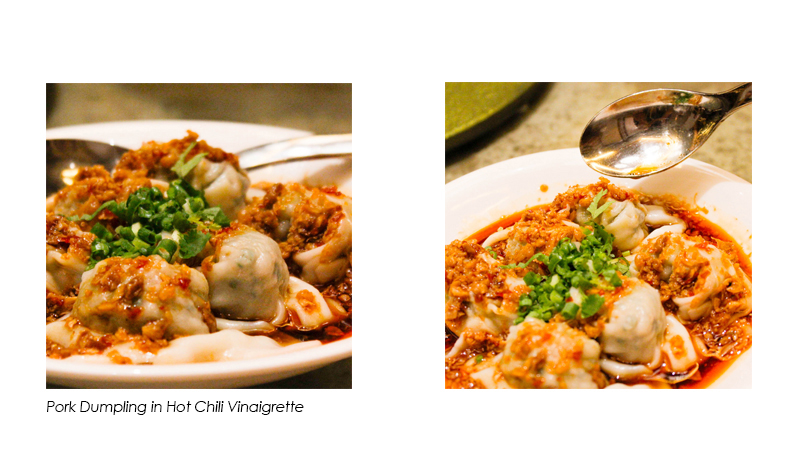 Next up was their Pork Dumpling with Hot Chili Vinegar Sauce. We found this to be very tasty and a bit spicy. It tasted very fatty and oily (which was to our liking) but wasn't overdone and its richness was cut by the black vinegar sauce.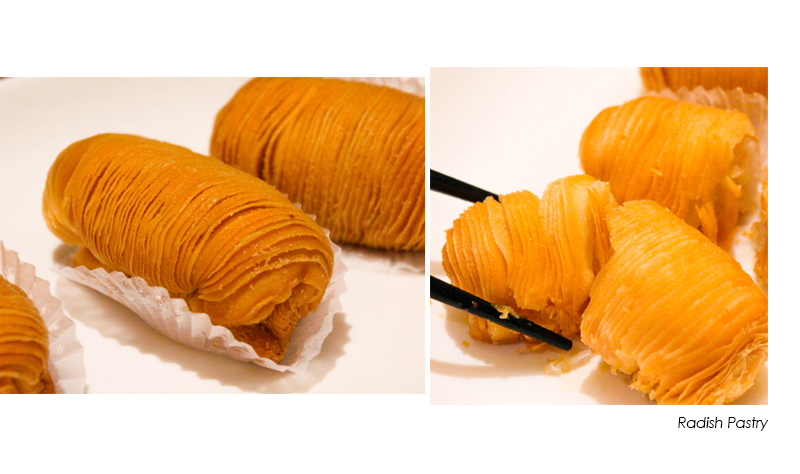 A dish that definitely stood out to us was their Radish Pastry, which had grated radish inside instead of the common mashed radish. The pastry was handmade with the precision of a skillfully trained master chef. This was one of the dining highlights, in our opinion.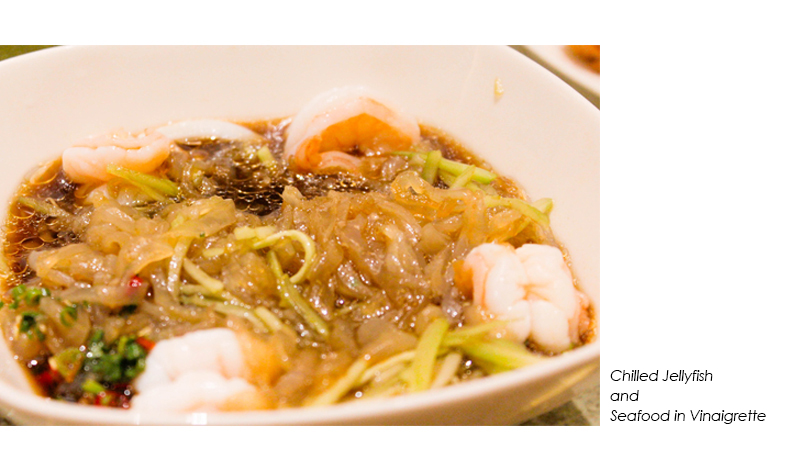 The next dish they served was the Chilled Jellyfish and Seafood in Vinaigrette, which is one of the all-time favorite go-to dishes in every Chinese restaurant. This dish DID NOT disappoint. The chewy jellyfish mixed with springy seafood really rounded everything up, it had all the components of a light refreshing dish to take a break from all the richness going on. We would've loved it more if century egg was incorporated with the jellyfish and seafood dish, though.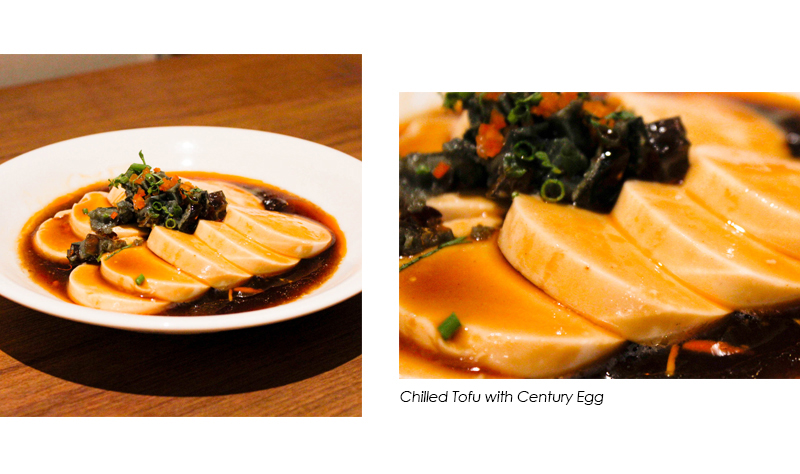 They then served us Chilled Tofu with Century Egg. How can you not love tofu and century egg? It's like a match made in heaven! The rich pungent century egg on top of that creamy cold silken tofu was fireworks in the mouth!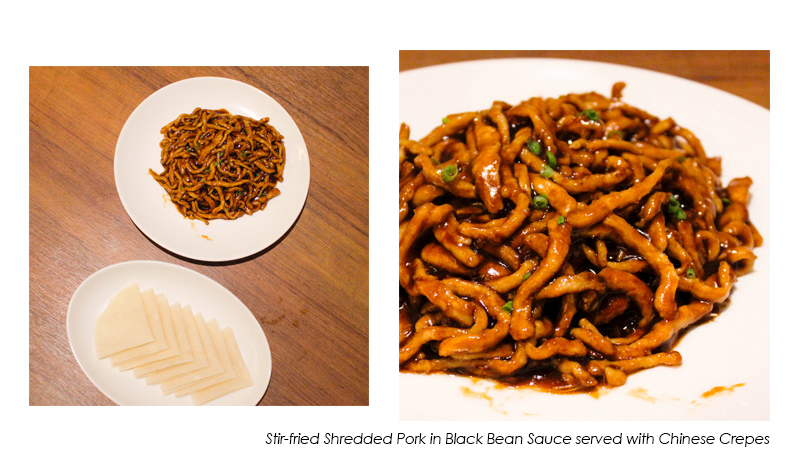 Their modern take on a Chinese classic Peking duck, was the Stir-Fried Pork with Black Bean Sauce Wrapped in Crepe. No words can express how delicious this dish tasted! Fatty porky umami-filled flavors with the right amount of hoisin sauce, wrapped in soft Chinese crepe. WOW!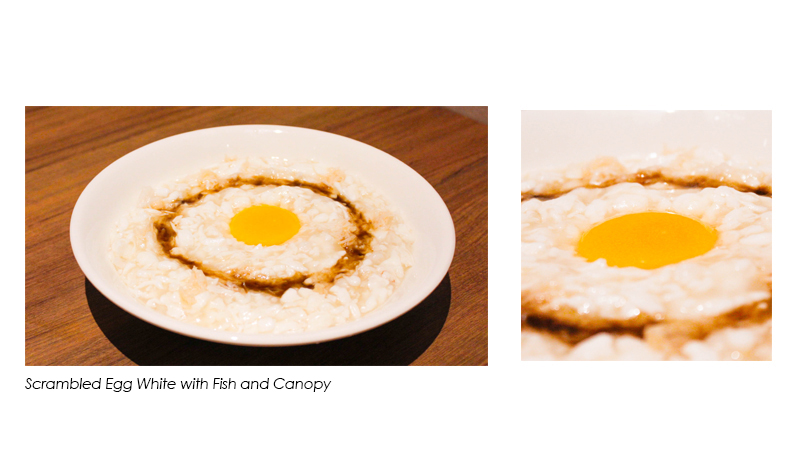 Next was their Scrambled Egg White with Fish and Compoi, which was very light yet filling. The scrambled whites complemented the fish, which really really filled our almost full tummies up!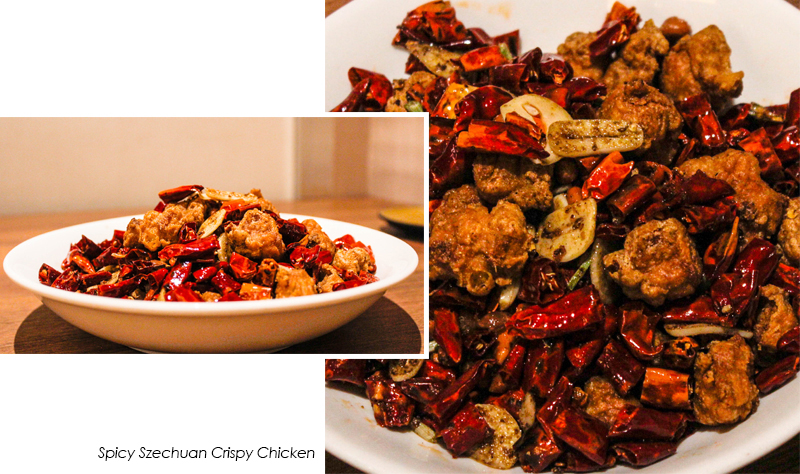 Since we're huge fans of anything spicy, we were super enthralled to see the Crispy Chicken topped with Szechuan Peppers. As expected, the peppers numbed our tongues, but the interesting part about this dish was that the crispy chicken's flavor stood out despite our tongues feeling all tingly.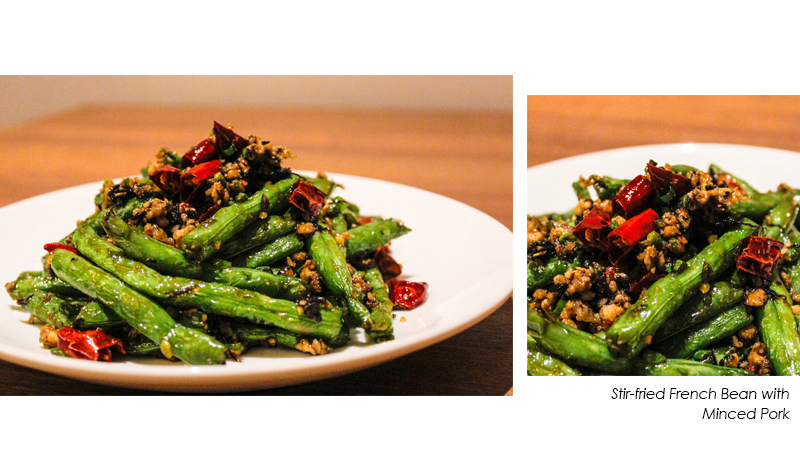 The next dish we were not fans of though; French Beans with Minced Meat, which was a bit bland and one dimensional in taste. On its own, it tasted pretty good, but the mixture of the stir-fried beans with minced meat just didn't excite us.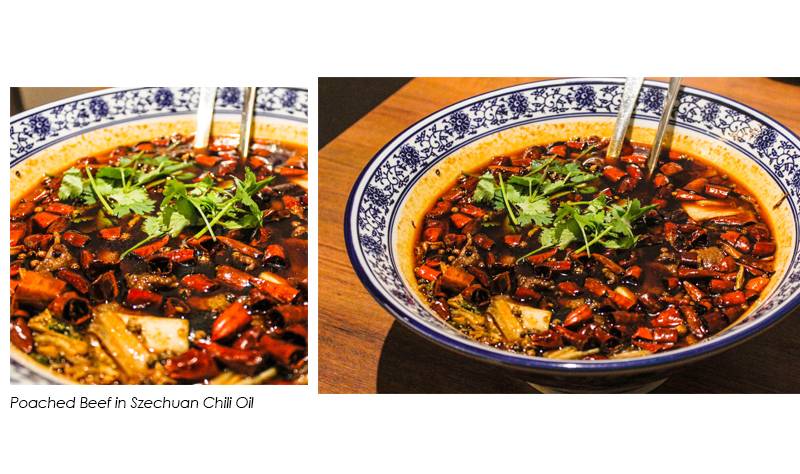 Thank the heavens they brought out their gargantuan Poached Beef in Szechuan Oil. You have to see this dish to believe it – this could be eaten as a food challenge. It is something new and exciting only at Paradise Dynasty! This, apart from their delicious XLBs, could be the restaurant's newest trademark dish. The beef was so tender that it could melt just by pressing it on the roof of your mouth. The noodles were an interesting addition to the oh-so-spicy dish, and how could we forget about the star of the show, the unlimited amount of Szechuan peppers infused with the soup! Holy cow! This was to die for – this dish should be amongst the legends of food!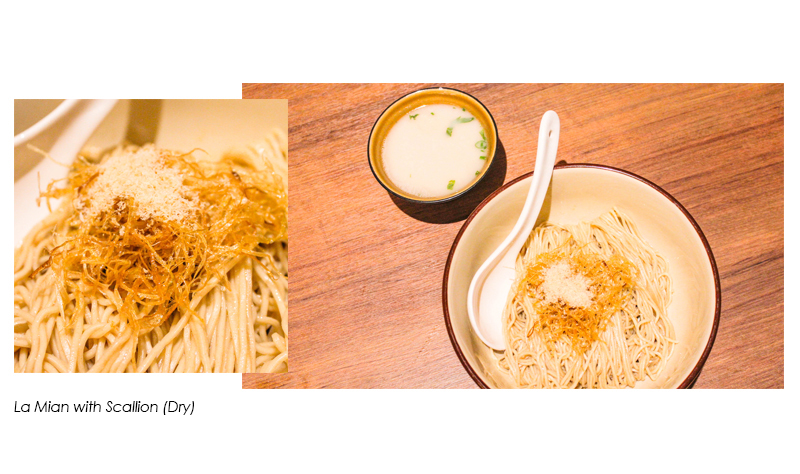 A very tasty noodle dish that fills the stomach up (If we weren't full enough, already!). One cannot have a complete Chinese meal experience without trying a restaurant's noodle dish. It is a basis of great masterful cooking to be the basis of what completes every meal. This is certainly one of those. We recommend you to order this dish, and complete your Chinese dining experience.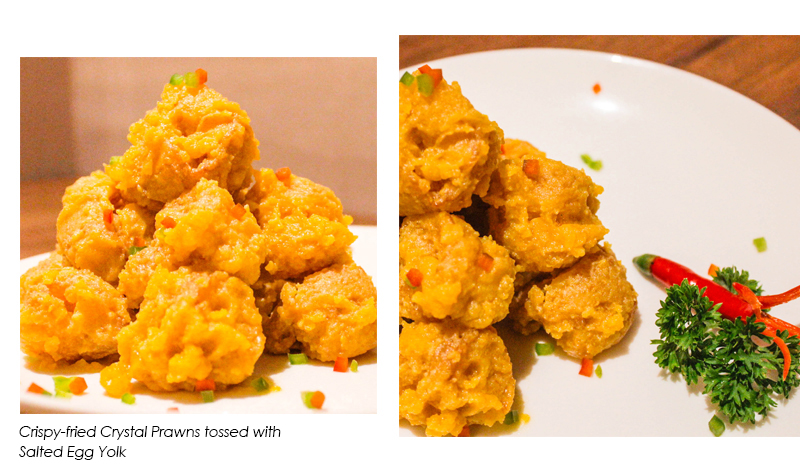 A staple on every menu, the crystal prawn which is deep fried to a crisp, tossed in golden brown salted egg yolk sauce is the perfect accompaniment to rounding out your experience in Paradise Dynasty.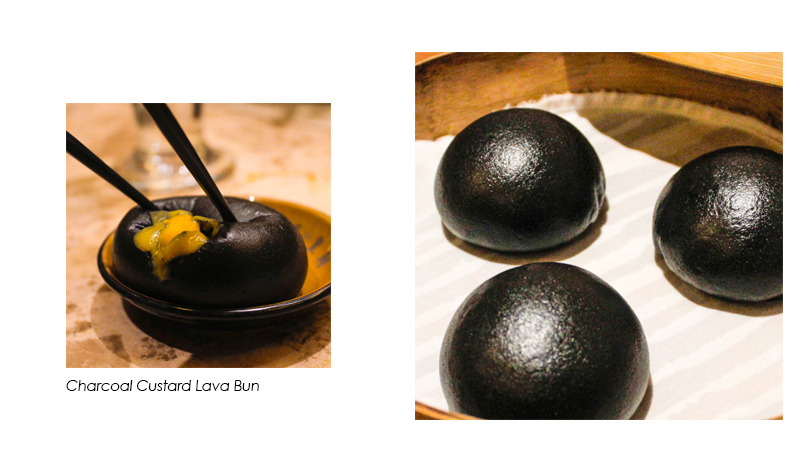 Last but not the least was the dessert: Charcoal Bun infused with Salted Egg Custard. Need I say more? Overall, we give our dining experience at Paradise Dynasty, two thumbs-up! We'd recommend this restaurant to anyone willing to try something new, to go out of the comfort zone and experience revolutionary gastronomical dishes, right in the Metro! Paradise Dynasty is located at 2/F The Podium, Mandaluyong, 1550, 1550 Metro Manila. They are open from Monday to Sunday from 10 AM to 10 PM (hours might differ during holidays). You may call: 02) 682 3333 to reserve a table.