PuzzleBox Inc in Top 10 Contact Center Services Companies of 2019! – CIO Advisor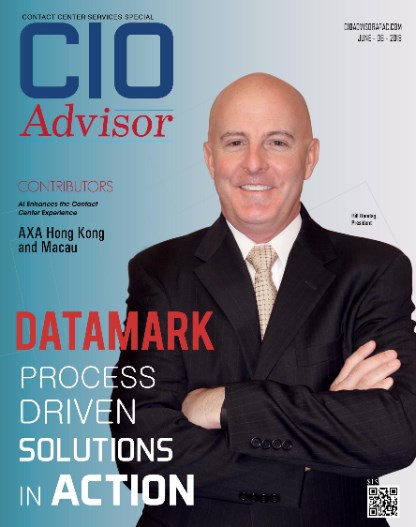 Brands today have traditionally employed voice communication channels to engage with customers and redress their grievances. However, the emergence of Digital Channels through the Internet—like the brand website and social media—has changed the course of the business process outsourcing (BPO) story in the last few years. Any company that misses climbing on the digital disruption bandwagon is bound to see its end soon. In an age where the customer is king, brands are finding themselves reeling under legacy practices that can lead to poor customer experiences, or worse, missed business opportunities. But not anymore! Led by young and versatile entrepreneurs with a rich knowledge of the customer support, technology, and marketing industries, PuzzleBox is taking these challenges head on through its scalable, customer-centric, and cost-effective services for customer care, social media and website management, as well as web application design and development.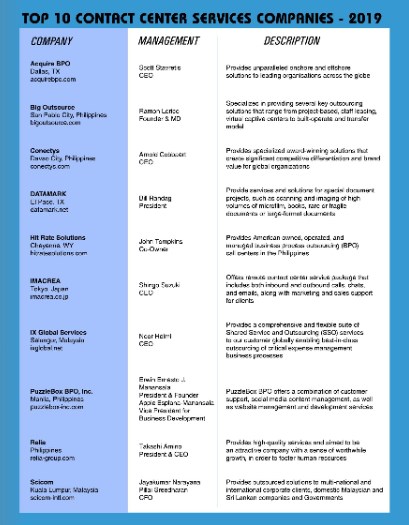 While PuzzleBox BPO's 24/7 voice (inbound and outbound) and non-voice (chat and email) support services help serve their clients' customers better, the company fosters sales acumen among their employees and equips them with up-to-date technology. Learning through hands-on experience, the workforce of PuzzleBox provides the latest and sustainable solutions for the brands.
In today's digital landscape, it's not unusual for customers to visit brands' websites to make a purchase or seek support services. Unfortunately, many such sites overlook the effectivity of optimized web design to convert visitors into loyal customers. To fill this gap, PuzzleBox offers innovative web design and development services that strongly focuses and considers the target market's user experience. 
Brands need to tailor their marketing strategy to implement effective social media strategies in an effort to meet audience expectations while engaging them in an omnichannel space. Recognizing this, PuzzleBox offers brands the ability to market their new or current products through in-house social media content management and community engagement services. At the outset of a client engagement, PuzzleBox assigns a manager to understand the processes and challenges faced by its clients. Subsequently, the company recommends the necessary changes—be it for the process or number of seats needed for customer service operations.
"Our partner approach to client relationship has helped us to become the first choice for companies of all sizes," says PuzzleBox Founder and President Erwin Manansala.
To date, PuzzleBox has made a name for itself in managing small, medium and large scale brands across diverse industries, including advertising, brand management, retail, e-commerce, online games, and broadcast networks. From established brands to startups, PuzzleBox offers digital business solutions tailored to fit the client's needs. A startup company, for instance, can utilize PuzzleBox's services and expertise to either incubate their growing business or instantaneously increase their services portfolio without losing focus on their core operations.
PuzzleBox leaves no stone unturned when it comes to protecting their clients' customer data, utilizing multiple security to protect from vulnerabilities and breaches. As part of a strict data-privacy policy, the firm has set up a robust password approach which only grants system access to authorized agents .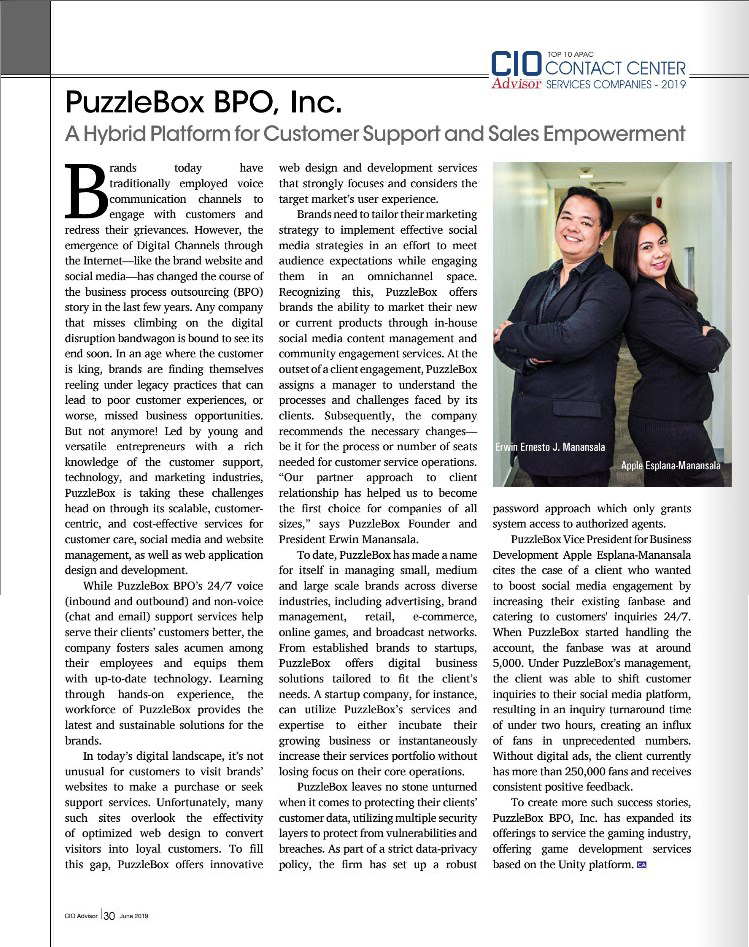 PuzzleBox Vice President for Business Development Apple Esplana-Manansala cites the case of a client who wanted to boost social media engagement by increasing their existing fanbase and catering to customers' inquiries 24/7. When PuzzleBox started handling the account, the fanbase was at around 5,000. Under PuzzleBox's management, the client was able to shift customer inquiries to their social media platform, resulting in an inquiry turnaround time of under two hours, creating an influx of fans in unprecedented numbers. Without digital ads, the client currently has more than 250,000 fans and receives consistent positive feedback.
To create more such success stories, PuzzleBox BPO, Inc. has expanded its offerings to service the gaming industry, offering game development services based on the Unity platform.
CLICK HERE TO READ FULL STORY:
https://www.cioadvisorapac.com/magazines/June2019/Contact_Center/?fbclid=IwAR2luJeqJHv-rpWn9my7j9GSv0miw30TmwnlojF3DktSNNbq06a8ZsgJ-zI