2nd Bataan International Triathlon: A Scenic Sports Tourism
Written by: Aiza Llave
Photos by: Ryan Serdena
There are places that can elicit wonders in people to venture into new and exciting possibilities.
For Raymund Magdaluyo, Chairman of Blackbeard's Seafood Island Group and President of F&F International Events, Inc. the organizing team of Bataan International Triathlon, that place happened to be Las Casas Filipinas de Acuzar Heritage Resort by the Sea at Bagac, Bataan.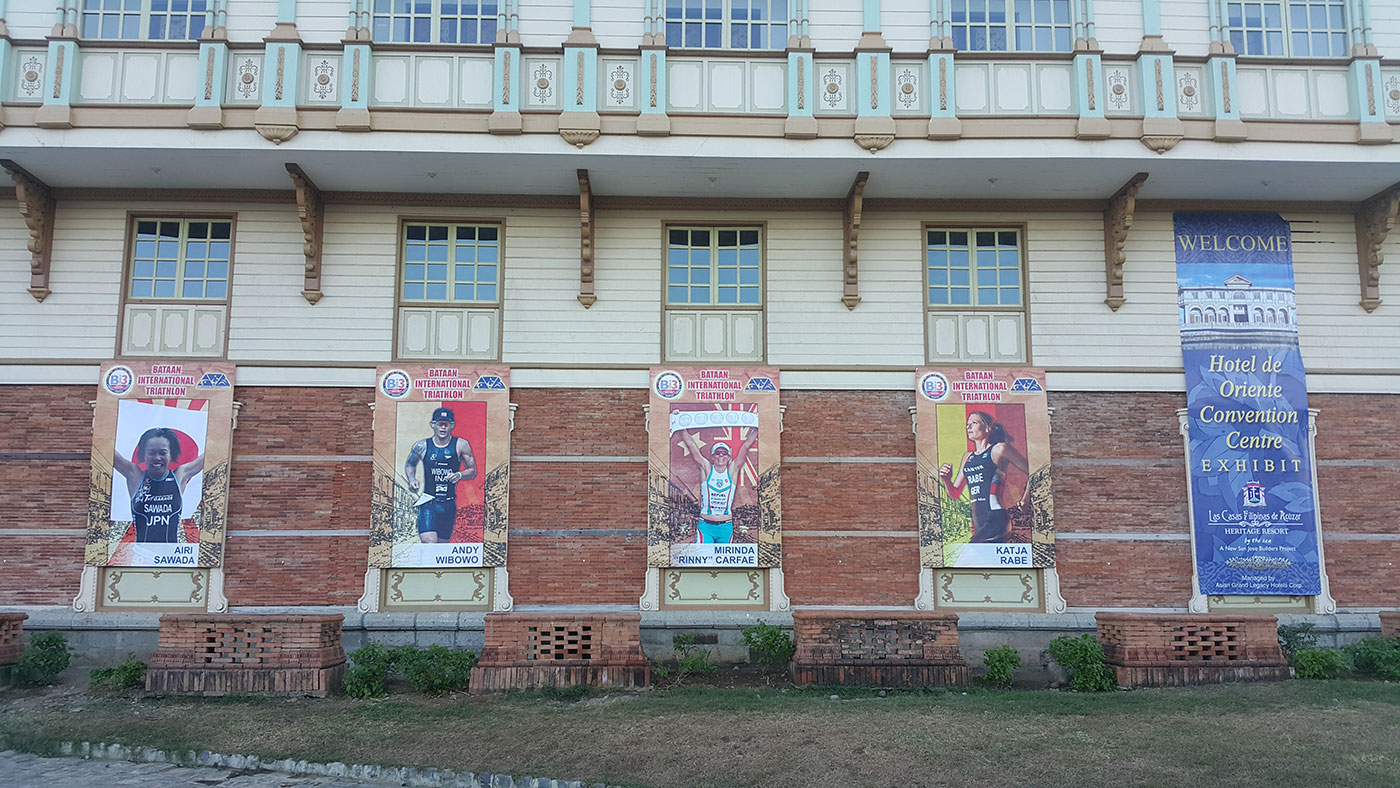 Huge banners of power athletes adorn the façade of Hotel de Oriente in Las Casas
Two years ago, Raymund saw Las Casas back when it only had 60 rooms. Upon seeing the place, he knew that this was the ultimate place for the eco-heritage race of his dreams.
"The dream for Bataan International Triathlon is to be the most Filipino race possible. I think each country, especially in Southeast Asia, needs to have a local race that showcases its own culture, its own heritage. Thailand has it, Indonesia has it, and we should have it. Basically there is no more appropriate place than this place. It's a magical place, built by Mr. Jerry Acuzar, such a visionary guy, patriarch of this place", he said during the VIP dinner the night before the race.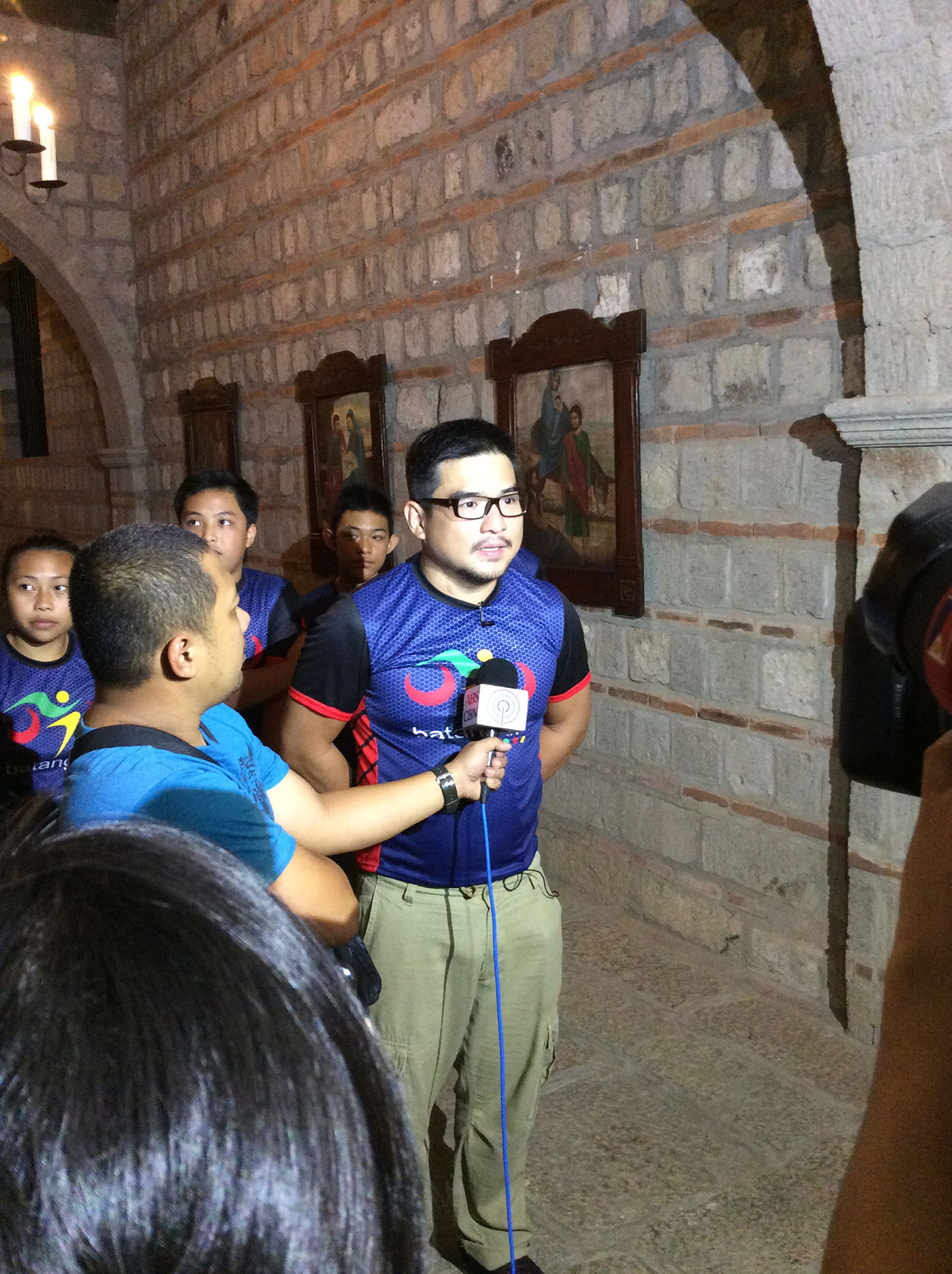 Raymund Magdaluyo
Batang Tri Grassroots Program
Aside from promoting the country's culture and heritage, Bi3 also works hand in hand with Batang Tri Grassroots Program to help develop triathlete kids.A year and a half ago, Jojo Macalintal, a triathlete for 20 years and Founder of the Batang Tri Grassroots Program, met Raymund. They had a common vision to teach kids and to give back. Being both experts in the food industry, they created a menu, the Jomac Boodle available in Seafood Island restaurant.
"I created the menu because that's what I learned from Japan, I was a cook there 30 years ago. When you purchase Jomac Boodle, P400 from that will go to the program. It's for the bicycle which the triathletes need for the triathlon", Jojo shared.
After one or two years under their tutelage, Jojo's team will look for a triathlon group or a national coach who will then take care of the young athletes. From three kids, they are now helping fifteen kids and Jojo aims to help more in reaching the finish line.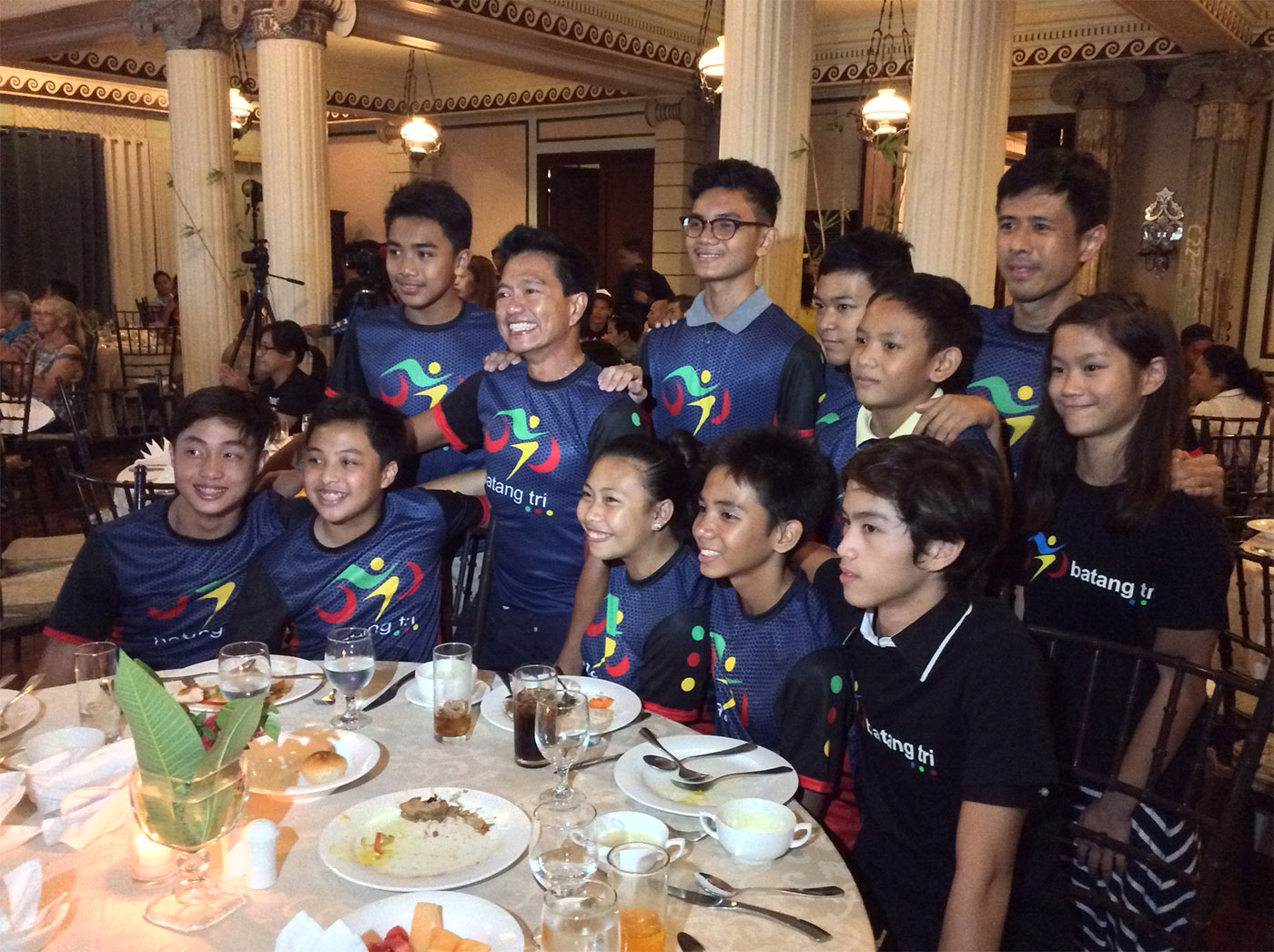 Jojo Macalintal with the Batang Tri
New Race Distance in 2016: Fuerte

Now Las Casas has 180 rooms and by next year, Raymund projects it can accommodate a thousand triathletes, the reason why F & F is planning to make the race bigger. He also announced an exciting news for triathletes –they are adding a new distance in 2016.
Itis called Fuerte, a1.5 kms.swim, 8 kms. bike, and 8kms run, just short of half iron distance.
It is a tough distance, over and above the Largo category and Raymund hopes it is going to make next year's race more fun.
The Race Results
In the grueling race, these victorious triathletes dominated the crowd of 650
competitive triathletes at the 2nd Bataan International Triathlon on 28 November 2015.
RAPIDO WINNERS
Overall Male:
Andy Wibowo 1:44:04
Matt O' Halloran 1:46:51
Xy James Dacayanan 1:57:01
Overall Female:
Grace Laurenciana 2:16:56
Noelle De Guzmam 2:25:58
Kimberly Li 2:27:20
LARGO WINNERS
Overall Male:
Deo Timbol 3:09:38
August Benedicto 3:11:17
Jet Ramos 3:20:30
Overall Female:
Mirinda Carfae 3:15:36
Airi Sawada 3:32:54
Katja Rabe 3:38:41
Man of the Hour: Andy Wibowo
In an interview with PuzzleBox, Indonesian Rapido Overall Male Champion Andy Wibowo shared that winning the Bi3 gave him a good feeling, sincethis is his last for the season and it's ending with a first place. He shared that his preparation for this race was not that good because he just recovered from a fracture injury three months ago and just getting better.
"I'm still swimming, biking normal, but less running", he answered when asked about his practice routine.
Outside of junior triathlon, Andy has a swim club and coaching everyday in Bali, Indonesia.
"So before, when I was a swimmer, I have a goal to qualify… after I retire, I'll join the triathlon", he added.
Andy started competing in 2012 in a team relay and has now joined the Bi3 and won as an individual triathlete.
We asked what Mr. Wibowo the mindset needed for such an event:
"The mindset is just to win the race, yeah? [laughs]".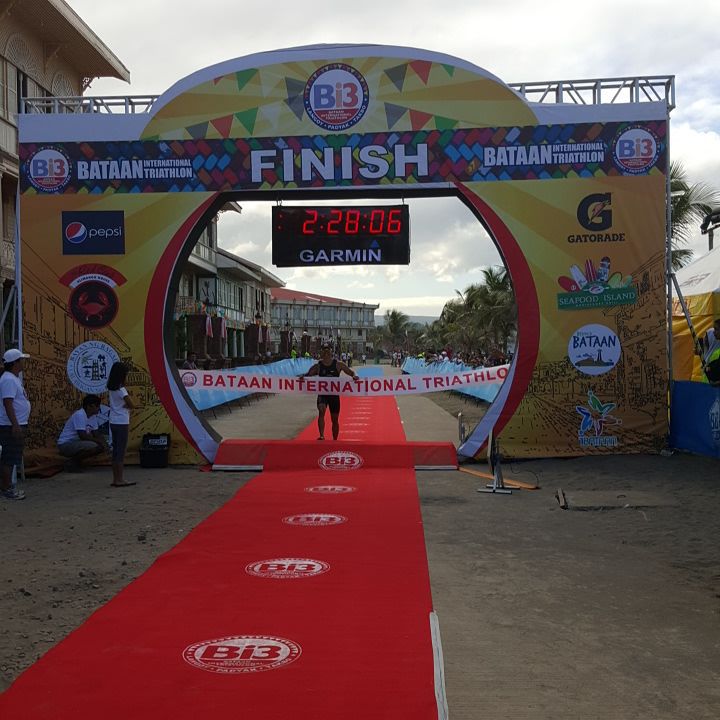 Andy Wibowo wins the 2nd Bataan International Triathlon (photo from Bi3 FB Page)
Bi3Snapshots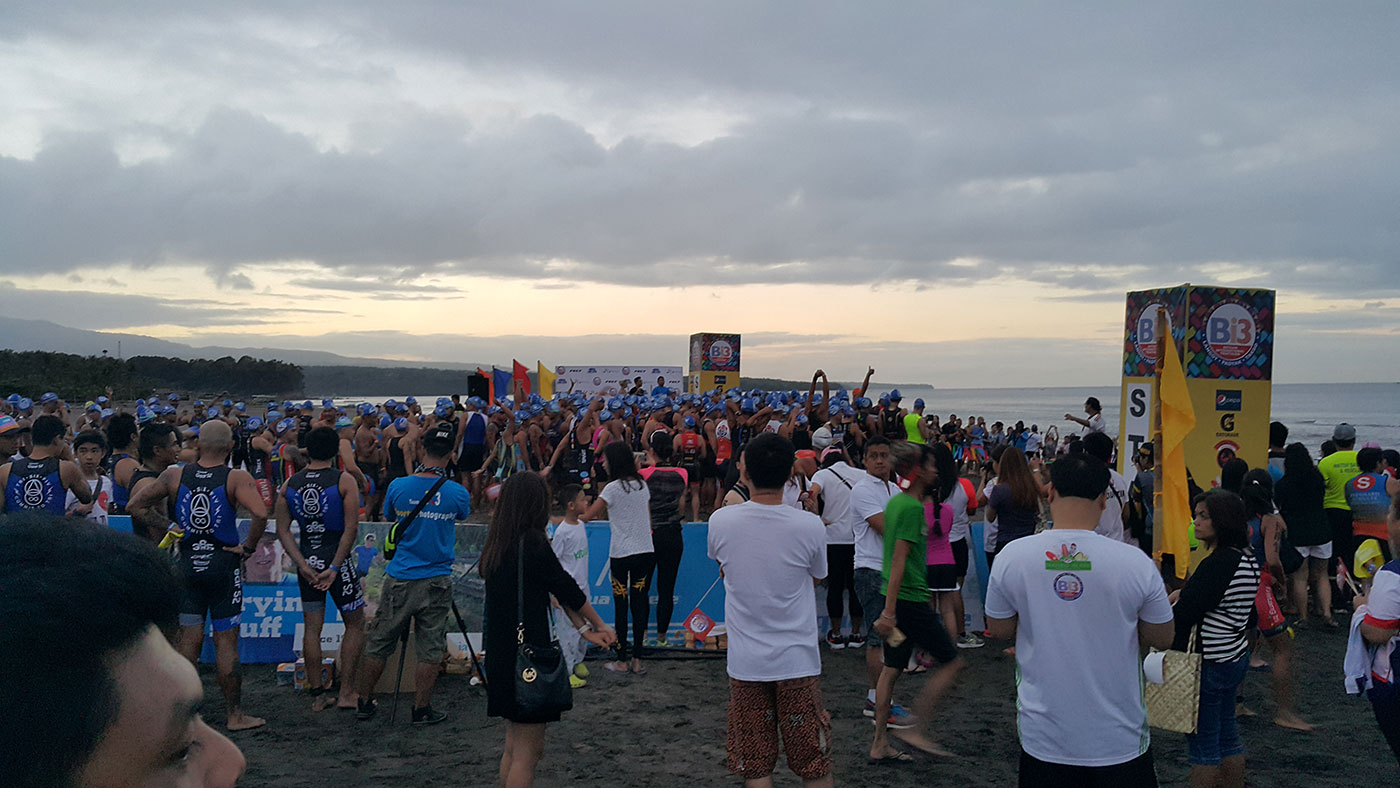 Expectant crowd and athletes
Medals sponsored by SilverWorks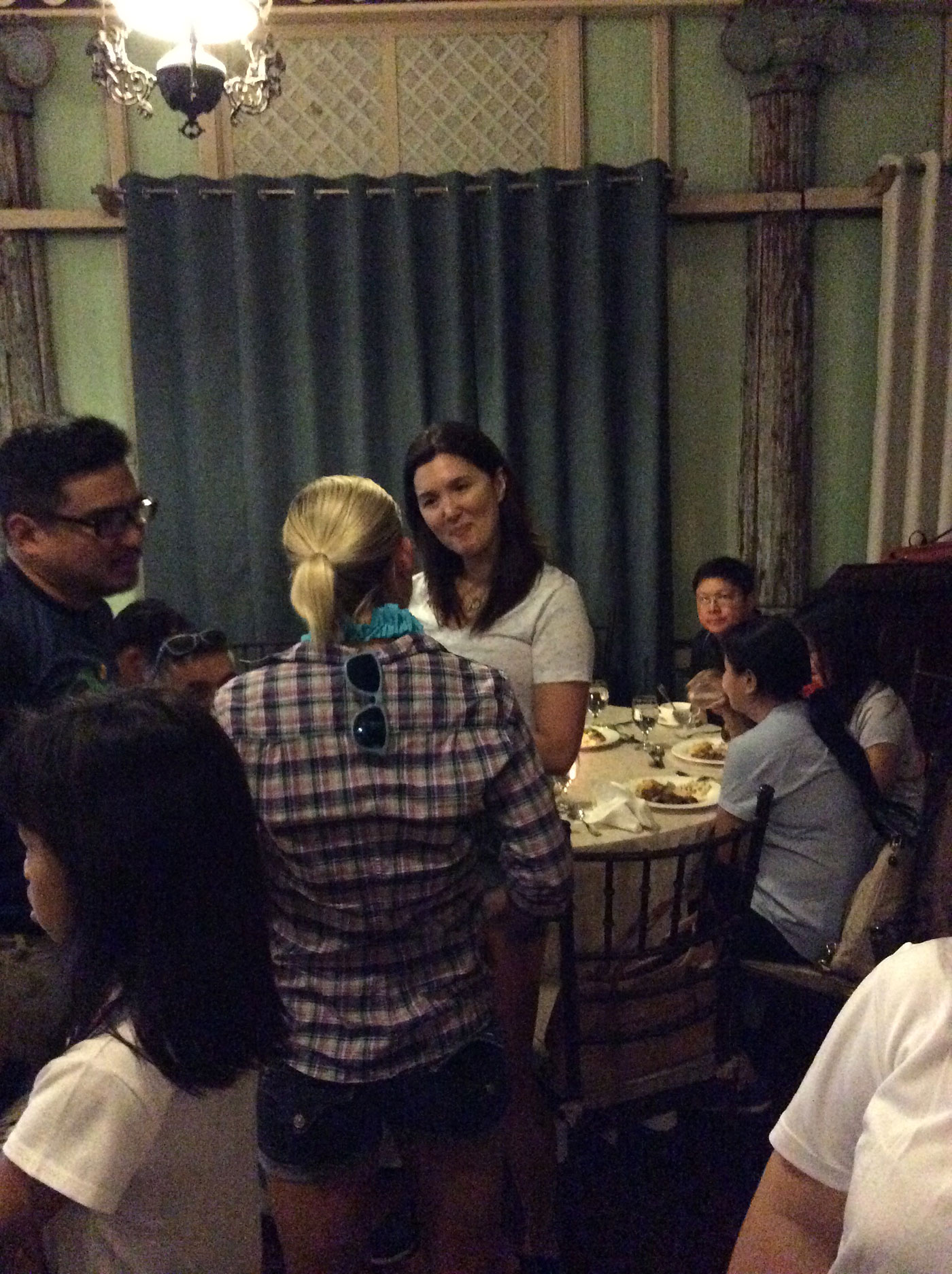 Power of Tri: Raymund Magdaluyo, Sen. Pia Cayetano, and Mirinda Carfae
probably chatting about tri tactics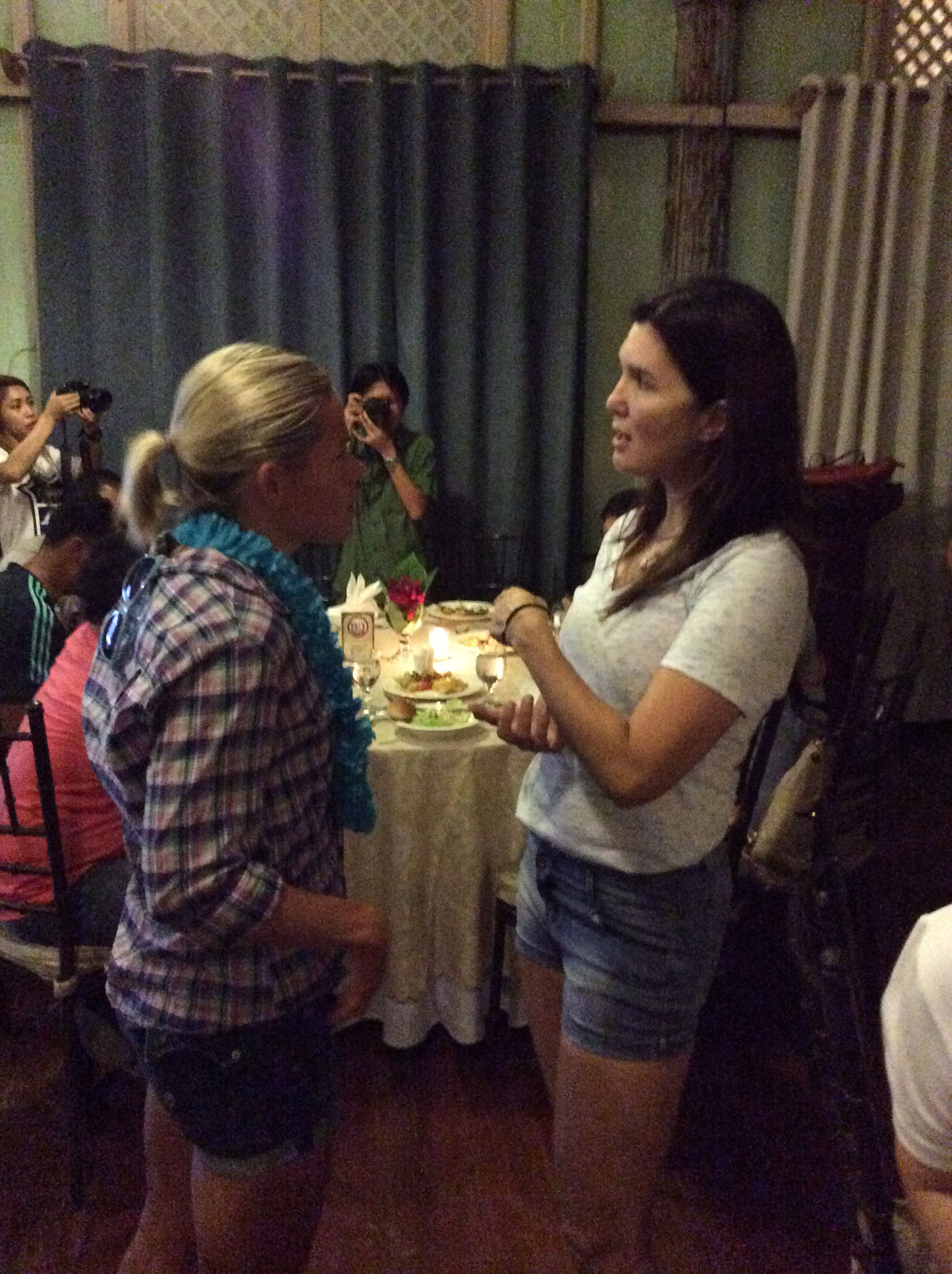 Girl Power: Professional Triathlete and 3x Ironman Triathlon World Champion from Australia, Mirinda "Rinny" Carfae with Sen. Pia Cayetano, a fellow Bi3 participant