PuzzleBox BPO Inc. Reviews: Anytime Fitness Powerman Duathlon Pilipinas 2016: Run, Bike, Run!
Written by Kimberly Cruz Photos by Pots Duran   Marathons, are for runners, while bikers have their road races, but what if you like both? If you think you're tough enough to join such a competition, then the Anytime Fitness Powerman Duathlon Pilipinas' race series are the ones for you.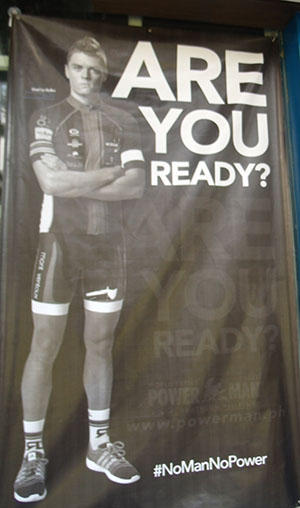 Anytime Fitness and Powerman ambassador, Gael Le Bellec, also a 2x Powerman Champion
On the sunny afternoon of April 28, 2016, Clawdaddy's BGC was abuzz with athletes, organizers, and media as Powerman Duathlon Pilipinas, in partnership with Anytime Fitness, had the grand launch for two major duathlon events in November and December this year.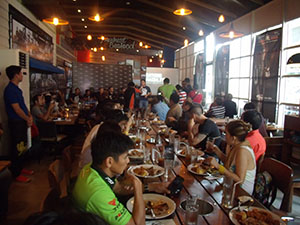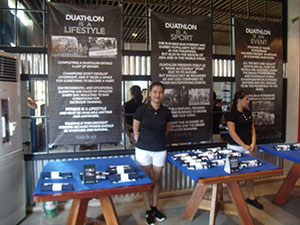 After their successful debut event back in November 2015, the Philippine affiliate of the International Powerman Association made sure that they have prepared worthy events for their second year.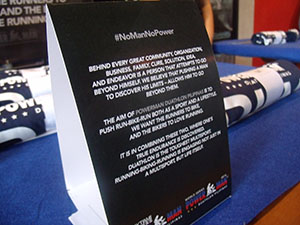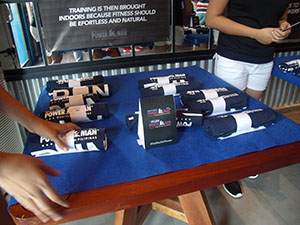 Anytime Fitness Powerman Duathlon Pilipinas 2016 have scheduled two major races that will be held in iconic venues for both runners and bikers: The Anytime Fitness Powerman Duathlon Pilipinas Asian Invitational will be held on November 20, at the SM Mall of Asia by the Bay. This event will consist of a Powerman Short, which is broken down into a 5km run – 30km bike – 5km run race. The Anytime Fitness Powerman Duathlon Pilipinas World Series will be held on December 3 and 4, at the Clark Freeport Zone. This two-day event will feature a number of races that will cater to duathletes of all age group and form: Powerman Short – (5km run – 30km bike – 5km run) Powerman Classic – (10km run – 60km bike – 10km run) Powerkids (for children ages 6 – 16) Powerteens (for adolescents ages 13 – 16)   3000 participants from the Philippines, and from all over the world are expected to join this event, as this will also be a qualifying event for the Powerman Duathlon World Championships in Zofingen, Switzerland. Organizers Raymund Magdaluyo, Owen Gan, Carlos de Guzman, and President of Powerman International John Raadschelders, also gave talks on how this event aims to encourage runners to try biking, and bikers to enjoy running. This multisport event, also aims to trigger the growth of biking and running related markets in the country. And last but not the least, this event should encourage people to take on a healthier and more active lifestyle.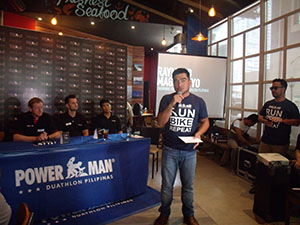 Raymund Magdaluyo, Powerman Duathlon Pilipinas Chairman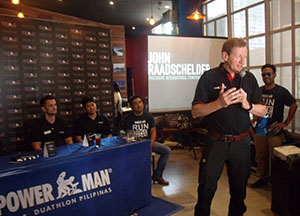 John Raadschelders, International Powerman Association President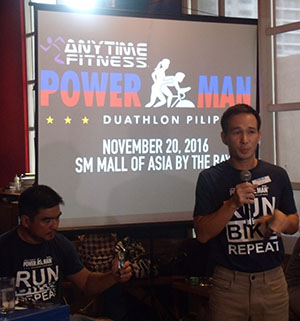 Owen Gan, Powerman Duathlon Pilipinas President
And who else would be more capable to make ordinary people become Powerman worthy athletes, than Anytime Fitness. In line with these upcoming Powerman races, Anytime Fitness and Powerman ambassador Gael Le Bellec, devised a 24-week Power Training Program that will help boost stamina and athletic ability of interested race participants. This program will also include Power Camps, and Power Clinics wherein guest coaches and mentors will share their expertise to help participants to gain their optimum athletic performance in time for these two major races.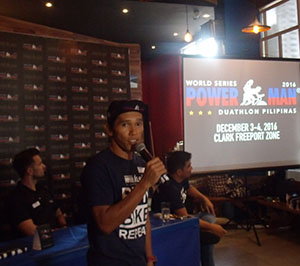 Thumbie Remigio, Powerman Duathlon Pilipinas Race Director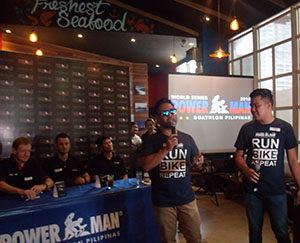 Carlos de Guzman (L) and Wis Alvarez (R)
So if you think you can push your physical limits, or just want to have fun with friends and family at these Poweran Duathlon Pilipinas events, then please visit www.powerman.ph to register. Let's all get ready to Run, Bike, and Repeat.